Danilo Giordano, Assistant Professor
Contacts: danilo.giordano 'at' polito.it
Danilo graduated with Ph.D. in Electronic Engineering in 2017. He is an Assistant professor at Politecnico di Torino, Italy, and he is a member of the SmartData@PoliTO center on Big Data, Machine Learning and Data Science.
In the last years, he was a Research Intern in Naurus Inc in 2014. and CAIDA, UCSD in 2016, working on the development of machine learning methodologies and big data analysis.
He won the IRTF ANR Prize at IETF-98 and the best student paper awards at IEEE International Teletraffic Congress. He participated in the program committees of several conferences, including ACM CoNEXT, ACM IMC, IEEE International Teletraffic Congress, IFIP Network Traffic Measurement and Analysis Conference, and Conference of Prognostics and Health Management Society.
Research Interests
His research interests are in the area of the application of predictive maintenance in Industry 4.0, Machine Learning applications, and big data analytics applied to different areas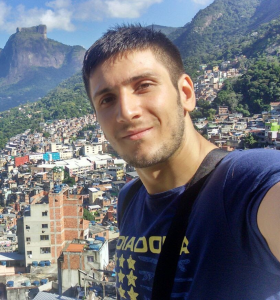 MAIN TOPICS
I have been involved in many research projects addressing different topics:
Predictive Maintenance
Network measurements
Big data
Smart cities
FUNDED PROJECTS
Network Monitoring for QoE Assessment, (2021-ongoing), Skylogic
Toward a zero defects manufacturing process with Artificial Intelligence applications, (2020-2021), Centro di Ricerche Fiat
Smart manufacturing and process improvement driven by Machine Learning in Industry 4.0, (2019-2020), Centro di Ricerche Fiat
Big Data platform for FFCS design: from Gas to Electric, (2017-2018), Siebel Energy Institute
PATENTS
SCIENTIFIC PUBLICATIONS
A list of publications can be found here.
AWARDS AND HONORS
ORGANISATIONS OF TECHNICAL PROGRAM COMMITTEES
Co-chair of the 2nd International Workshop on AI in Networks and Distributed Systems, 2021
Chair of the Data challenge of the 6th European Conference of the Prognostics and Health Management Society 2021 
Co-chair of the 2nd International Workshop on AI in Networks and Distributed Systems, 2020
Co-chair of the Data challenge of the 5th European Conference of the Prognostics and Health Management Society 2020 
PARTICIPATION TO TECHNICAL PROGRAM COMMITTEES
Network Traffic Measurement and Analysis Conference, 2021
International conference of Network Systems and Services, 2021
International Workshop on Analytics for Network and Service Management, 2021 
International Workshop on Analytics for Network and Service Management, 2020
International Teletraffic Congress, 2020
International Conference on Networking, Sensing and Control, 2020
International Conference on Networking, Sensing and Control, 2019
Workshop on Big DAta, Machine Learning and Artificial Intelligence for Data Communication Networks, 2019
International Conference on emerging Networking EXperiments and Technologies, 2019
International Teletraffic Congress, 2019
International Workshop on AI in Networks, 2018